What do you use the BOLT Cable Lock for?
Isn't a burden when searching through all the keys you have on your heavy key ring just to unlock a lock? Time to get an upgrade and get rid of all those keys and just use one! BOLT Lock makes it easy for you to access your locks quickly and without a struggle. Simply insert the key into the lock, turn it once and it permanently learns your key. It's that easy!
The BOLT Cable Lock is easy to use and can be used for multiple purposes such as a bike, roof rack items including ladders, a spare tire and more.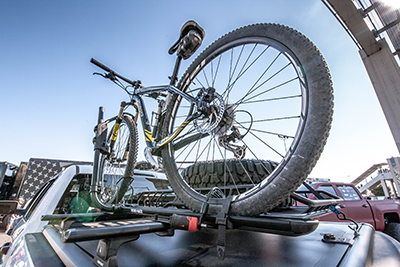 ---
Features
6ft Long 1/4" Black Vinyl Coated Coiled Cable
Auto Return Spring Locks Automatically When Key Is Removed
Plate Tumbler Sidebar to Prevent Picking and Bumping
Stainless Steel Lock Shutter to Keep Out Dirt and Moisture
Weatherproof
Open with Your Vehicle Key
Limited Lifetime Warrranty
---
Cable Lock Reviewed
"Love these locks from BOLT. Solid, very heavy duty and very convenient. No worries about where the key is for the locks as long as I have my truck key. The reason I only gave this model 4 stars is because of the coil. The coil made it difficult to run the cable through the tie down points and stretch to reach where I needed it to be. In fact, I had to settle for 1 less anchor point to secure my tool boxes because it wouldn't uncoil and feed through the anchor points and I know it was long enough if it weren't so tightly coiled. I do own several Bolt products and the pad locks are extremely heavy duty and work perfectly protecting my tool box and storage box in the bed of my truck. Highly recommend these products."